About NTSE 2021
NCERT conducts the National Talent Search Examination (NTSE) which is a national-level scholarship exam and is one of the best opportunity examinations for Students studying in class 10 and only students in 10th standard are eligible to appear in the NTSE. The examination consists of 2 stages same as previously. NTSE is conducted by the State education board of every state whereas the Stage 2 exam is conducted in May by NCERT for the qualifying students in Stage 1 across India. After clearing both the stages, then the only student becomes finally qualified for the scholarship.



It occurs in two stages Stage 1 and Stage 2. The student needs to clear both the stages to qualify for the final scholarship. Candidates who appeared for NTSE examination Stage 1 will need to meet NTSE cut off score which is a baseline score above which one qualify for the NTSE Stage 2 examination. Similarly, there exists a baseline for the second stage too, that a candidate needs to score to qualify the final stage of scholarship test. Students qualifying these two rounds become eligible for attaining a scholarship. The NTSE cut off of Stage 1 paper is declared by the State Education Board of each state whereas the NTSE cut off for Stage 2 is declared by The National Council of Educational Research and Training (NCERT) after the conduct of the respective examinations.
Also Read:
NTSE 2018 Cut Off - Stage 1
The Stage 1 examination was conducted on November 4 and 5, 2017 by the State Education Board. The result declaration of NTSE stage 1 cut off by every state and UT comes in the month of January 2018. The NTSE cut off 2018 serves as a benchmark or you can say are the minimum marks a candidate needs to score to qualify for the Stage 2 examination. The students who could not meet benchmarks are disqualified.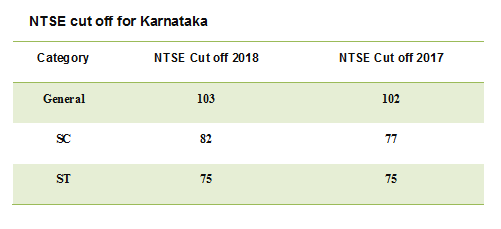 NTSE Cut Off 2018 - Stage 2
The candidates who leave the benchmark scores of stage 1 behind are only eligible for the Stage 2 of NTSE 2018 examination conducted by NCERT.
Here is NTSE category wise maximum marks below of the previous years.