JEE Main is undoubtedly the most well-known (and the most feared as well) entrance in the whole country. The entrance to B. Tech/B.E. courses is carried out mostly through JEE Main. However, the fear will only spoil your future and, be stress-free and confident is the key to this JEE Main 2019. Follow this guide to get insights on how to score well in JEE Main 2019.
First Things First
You shouldn't be afraid of JEE Main Exam , but you shouldn't take it lightly as well.
In order to crack JEE Main 2019, you will require a lot of patience, dedication and mostly smart-work.
You don't need to cut-out yourself from friends, family, and entertainment but you will surely need a lot of consistent efforts and that may require to occasionally to crack JEE Main 2019 Exam.
One of the questions that most students ask is whether they should join expensive coaching classes JEE Main and that's a huge illusion among the minds of students and parents that the only way of becoming successful in JEE Main Exam is joining one of the many expensive classes in the country.
Sure, going to a class won't harm you and might actually do you good but this isn't the case that you can't crack JEE Main 2019 without a class and you shouldn't be totally dependent on it.
Many people have cracked JEE Main Exam without the classes and even you can if you work consistently.
Joining a class won't be of any use if you don't put in your own hard-work to clear the JEE Main Exam.
If you are weak in some subject(s), then you must consider joining a class or get some online tutoring course for JEE Main 2019, which is available for free as well.
Your Board studies and JEE Main preparation can go hand in hand and you can also get practice for JEE Main through your college tests as the fundamental topics will be the same.
You will need to make a lot of notes for JEE Main 2019 exam as when the revision time comes then you will have a lot of things to go through and having your hand-written notes can be very time and effort efficient.
Make a checklist of all topics JEE Main exam and of the subjects that will include studying, practicing and revising schedules.
This will help you to keep a check of all the topics that you have completed and which you need to complete for JEE Main 2019.
Making flowcharts and cheat-sheets of all the topics will help you revise and remember the things well.
Formulae and equations must be revised on a regular basis as they have a high tendency to be forgotten.
In the end, your efforts will be the ones that bring you success and not just expensive books and classes.
Tips And Tricks For JEE Main 2019 Physics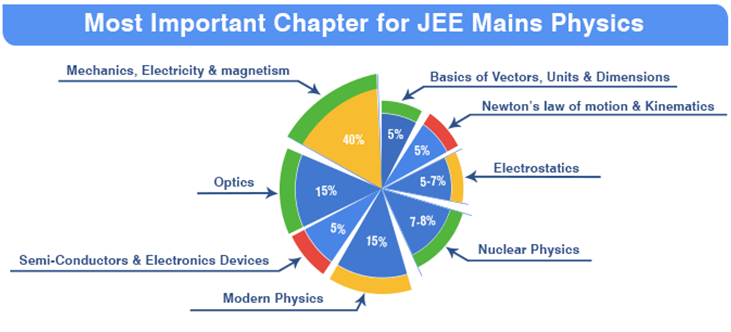 The graph shows the important topics of Physics but remembers that these are not the number of questions that occur in the paper
You can clearly see that Mechanics has a large part of the topics along with electricity and magnetism
These topics include a lot of formulae and hence you will need to revise these formulae again and again. There is no shortcut to revising but many tricks can reduce the efforts
Even if the part of vectors, units, and dimensions seems small, these topics are actually the base which you need to understand properly so that you can easily understand other topics and their inter-relations
This will not only reduce your efforts in understanding but these topics are important as some trick questions in JEE are based on the understanding of these topics
You must have a proper understanding of the units of various quantities as many tricks and shortcuts lye in the units of physical quantities
Properly practice numerical and keep in touch with the practice you put into the subject
Get a good grasp of the theoretical topics and you will surely ace the exam
Tips And Tricks For JEE Main 2019 Chemistry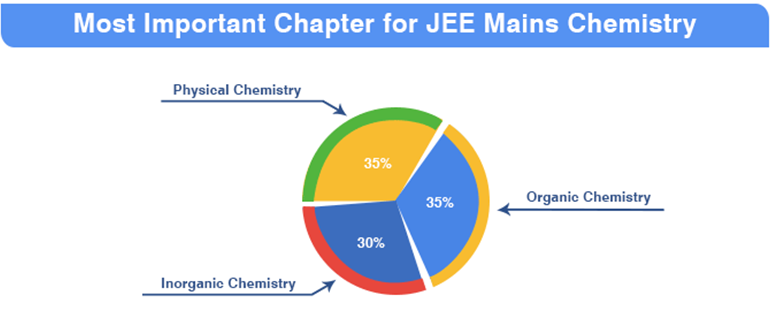 Chemistry is a subject that students feel the hardest
But there is not much to fear in Chemistry
If you study on a daily basis and practice the chemical reactions properly and regularly, you have nothing to fear and Chemistry turns out to be the easiest in JEE Main
In order to score good and understand better the various topics, you must know the entire Periodic Table with all the elements, symbols and their atomic number and masses
This can be done by regularly revising the table by breaking it into smaller pieces and using various mnemonics and catchphrases
As you can clearly see from the graph that all three sections have equal importance, so you cannot ignore anyone
The paper is mostly focused on reactions and so you must be very fluent in your reactions
Practice is the only way of remembering the reactions and you must not show laziness in doing so
The theory part is somewhat straightforward with some trick questions which you can easily answer if you have in-depth knowledge of the topics and read the question properly
Topics with higher score weightage include p, d and f block elements, surface chemistry, chemical bonds, molecular structures, compounds of oxygen and nitrogen and biomolecules and polymers
Regularly studying Chemistry will clearly guarantee your marks in JEE Main Chemistry section
You can refer to your classes and various online guides which will give you exclusive strategies that can be used to approach and solve the questions of Chemistry.
Tips And Tricks For JEE Main 2019 Mathematics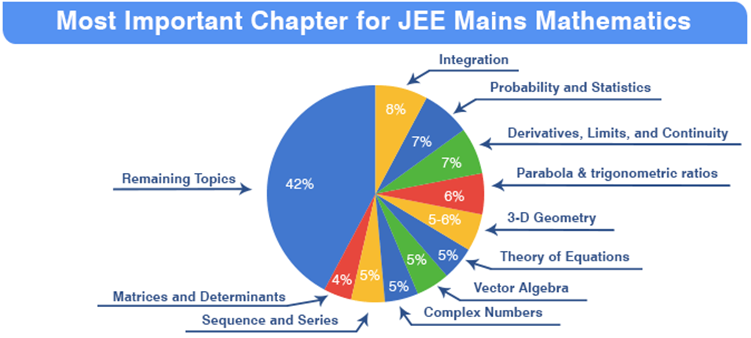 All students fear the subject of Maths in JEE Main is the most, be it a first grader or students in engineering colleges.
Hence, this subject requires some extra attention on the part of the students.
You must always start from the basics and clear them first before moving on to the higher topics.
The only thing that can guarantee your success in JEE Main 2019 is if you practice & practice.
The paper of Maths in JEE Main is prone with you making a lot of errors and mistakes and this cannot be completely and surely removed but can be reduced with the help proper focus towards the question and practice.
Tips And Tricks For JEE Main 2019 Paper 2
The JEE Main 2019 Paper 2 consists of 3 sections
Aptitude Test
Mathematics
Drawing Test
You Can Improve Your Preparations By Following These Tips:
To score better in JEE Main 2019 Paper 2, properly prepare on the aptitude and mathematics part.
The paper of drawing should be completed within one hour so that you have time for the remaining paper.
Always practice your drawing on A4 size sheets or books.
Make use of various drawing books for architecture entrance to understand the various concepts and make notes out of them to revise later.
It is a disbelief that only people good in the drawing can score in the drawing test.
Trust me, this is not so. Being good at drawing will surely help you, but the proper understanding of the various concepts can help you score better in the paper.
You would require a lot of practice to crack the paper.